DOES YOUR CHILD HAVE THE ESSENTIAL SKILLS FOR
STARTING KINDERGARTEN?
We can help your child with school readiness. The months leading up to starting Kindergarten, or entering 'Big School', can be an anxious time for parents.  Starting school can be both a daunting prospect and an exciting adventure. It is a legal requirement that children start formal education the calendar year they have their sixth birthday.   Some parents may hope that their child is ready to start school the year they turn five, while others may worry that their child is not emotionally ready, or doesn't have the necessary skills even in their sixth year.
If you have concerns about your child's 'school readiness', it is important to talk to the professionals who work with your child, such as their preschool teacher, childcare director or Occupational Therapist.
Building Blocks Occupational Therapy offers:
Assessment for school readiness
Individual therapy sessions to improve skills
Groups for preschoolers in term time and also during the school holidays
Our very successful and long-running Ready, Set, School program, aimed at children requiring extra help to prepare them for the expectations of the classroom.
Please see the related links to our Ready, Set, School page and other relevant pages, or contact us to discuss your child's individual needs.
The Essential Skills needed for successful entry into Kindergarten are:

Self-care and Independence Skills:
Children should be able to:
*  Put on and remove shoes, socks, jumper, jacket and hat
*  Go to the toilet independently
*  Open containers and packets/wrappers
*  Understand a daily routine
*  Say their full name and address
Pre-writing Skills: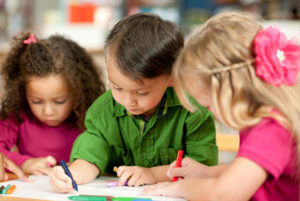 Children should be able to:
*  Identify/recognise their name
* Recognise basic shapes
*  Use both hands in cooperation
*  Isolate individual fingers
*  Trace their name / copy their name recognisably
*  Colour in with reasonable accuracy
*  Manipulate objects in their hands

Pre-scissor Skills:
The skills needed to begin using scissors are:
*  Orient and grasp the scissors correctly
*  Ability to manipulate the item being cut
*  Reasonable accuracy cutting along a bold line
* Awareness of Scissor Safety
*  Ability to snip

Visual Perception:
Children need to be able to

make sense

of what they see to help them with reading and writing. They should be able to:
*  Recognise and match objects that are the same colour, shape or size
*  Complete simple jigsaw puzzles
*  Recognise things that 'go together' (e.g. hat and head, shoes and socks)

Gross Motor Skills
Children should be able to:
*  Catch and throw objects (e.g. large balls)
*  Walk up and down stairs
*  Hop, jump, run
*  Complete activities requiring balance and coordination

Behavioural (Social) Skills
The skills expected at school are:
*  Waiting/taking turns
*  Sharing
*  Ability to follow instructions
*  Ability to introduce self and verbally interact with peers
*  Understanding of rules and expectations in order to learn how to behave properly
*  Ability to attend to, and concentrate on, the task at hand